Microsoft has issued an emergency out-of-band software update for Windows 8.1, Windows RT 8.1, and Windows Server 2012 R2 systems to patch two new recently disclosed security vulnerabilities.
Tracked as CVE-2020-1530 and CVE-2020-1537, both flaws reside in the Remote Access Service (RAS) in a way it manages memory and file operations and could let remote attackers gain elevated privileges after successful exploitation.
In brief, the Remote Access Service functionality of the Windows operating system allows remote clients to connect to the server and access internal resources from anywhere via the Internet.
A patch for both vulnerabilities was first released on August 11 with the batch of August Patch Tuesday updates, but it was for Windows 10, Windows 7, and Windows Server 2008, 2012, 2016, 2019, and Windows Server versions 1903, 1909, and 2004 systems.
A week later, yesterday, on August 19, the company announced that Windows 8.1 and Windows Server 2012 R2 systems are vulnerable to both privilege escalation vulnerabilities and released out-of-band patches.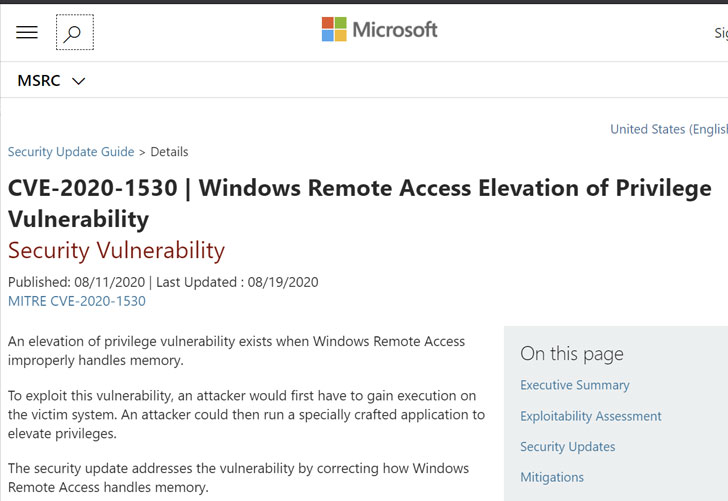 Read more: https://thehackernews.com/2020/08/windows-update-download.html