A group of researchers has detailed a new timing vulnerability in Transport Layer Security (TLS) protocol that could potentially allow an attacker to break the encryption and read sensitive communication under specific conditions.
Dubbed "Raccoon Attack," the server-side attack exploits a side-channel in the cryptographic protocol (versions 1.2 and lower) to extract the shared secret key used for secure communications between two parties.
"The root cause for this side channel is that the TLS standard encourages non-constant-time processing of the DH secret," the researchers explained their findings in a paper. "If the server reuses ephemeral keys, this side channel may allow an attacker to recover the premaster secret by solving an instance of the Hidden Number Problem."
However, the academics stated that the vulnerability is hard to exploit and relies on very precise timing measurements and on a specific server configuration to be exploitable.
A Timing Attack to Leak Secret Keys
Using time measurements to compromise a cryptosystem and leak sensitive information has been the heart of many timing attacks, and Raccoon employs the same strategy to the Diffie-Hellman (DH) key exchange process during a TLS handshake, which is crucial to trading data over a public network securely.
This shared secret key generated during the exchange enables secure browsing on the Internet, allowing users to safely visit websites by protecting the communications against eavesdropping and man-in-the-middle (MitM) attacks.
To break this security wall, the malicious party records the handshake messages between a client and server, using it to initiate new handshakes to the same server, and subsequently measuring the time it takes for the server to respond to the operations involved in deriving the shared key.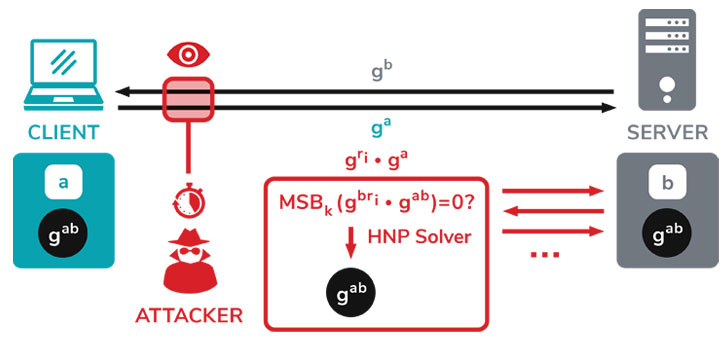 Read more: https://thehackernews.com/2020/09/raccoon-ssl-tls-encryption.html